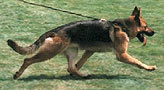 The kennels of Voitalhaus German Shepherds owned and operated by Jacqueline and Felix Wojtowich are located on fifty five acres of the beautiful, gently rolling hills in South Western Ontario, Canada. As German Shepherd Breeders this very selective kennel has the intention of raising German Shepherd Puppies from the best possible imported German bloodlines. The dogs used are sons and daughters of German World Seigers (Champions at the biggest German Shepherd Breed competition in the world). All of their breeding stock have had their hips and elbows x-rayed then assessed and passed by the "OFA", the "Ontario Veterinary College" and the very exacting standards of the "Verein fur Deutsch Schafehunde in Germany".
The desire of Voitalhaus German Shepherds is to ensure that the German Shepherd Puppies leaving their kennel are excellent representatives of the German Shepherd Breed with sound temperaments and sound bodies. In order to attain this end Jacqueline is an active member of the Ontario German Shepherd Schutzhund Club of Canada. She trains twice a week with one of the member clubs and competes in Club, Regional and National level conformation and working trials. These competitions test the strength of the dog's conformation and the strength and balance of its mind.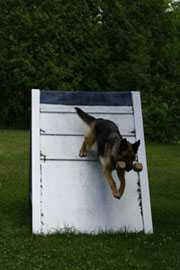 These are the very same types of competitions that Germany has been using to produce and refine the breed itself. In competition the true character of the individual dog and the German Shepherd Breed is revealed to be the great all around working dog that we love and admire.
Voitalhaus German Shepherds feels that the responsibility to acquire and train their dogs to the best possible level will ensure that you can, with confidence, acquire the quality German Shepherd Puppy that will become both the loyal family companion, guardian and, or competition dog that you have so long sought.
For puppy inquiries please do not hesitate to contact us